We started 2020 off right with the Barcoding Kickoff. We met a lot of the US team members for the first time, bumped fists with our partners and generally got into some good-natured shenanigans. Starting a new decade #betterthanever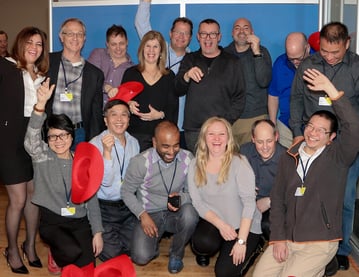 That said, here's what's new
Cargo Logistics – Feb 4-6th
Come join us at booth #617! Say hi to the team and let us answer any burning industry-related and supply-chain questions you may have. Are you migrating to android? Do you need a more efficient labeling procedure? How can you have a smarter warehouse? No questions too small, no high fives too high, so c'mon down!
Barcoding-Canada turns 1
That's right, this month on the 29th will be our one year anniversary and we can't wait to celebrate with you. Check back on our social and our blog to see what fun surprises we are brewing!
New case studies available
Recently, we updated the case studies page to highlight some of the clients we worked with and how we, along with our partners, helped them with some of their pain points. Check out how Barcoding And Zebra Technologies Help Fleet Farm Migrate And Modernize For A More Efficient Future With Android and World's Largest Equipment Rental Company Goes Digital In Fleet Operations
Wallpapers – get them while they're hot!
Our president, Shane Shyder, talks about the lessons he learned with the Canadian expansion
To stay in the loop about everything new in the supply chain world, check back for more posts on the Barcoding-Canada Blog. You can also keep up with us and our follow #SupplyChainGeeks through our social media pages on Twitter, Facebook, LinkedIn, and Instagram!